Zendesk is a comprehensive customer service platform that helps organizations to manage their customer support operations more efficiently. However, handling a large volume of customer queries and tickets can be overwhelming for first-level agents. To reduce manual work and improve productivity, Zendesk offers several automation features that you can use together with a middleware solution to streamline the support process and reduce unnecessary costs.
What's Middleware?​
Middleware is software that acts as a bridge between multiple systems, helping to automate and simplify the flow of information between them. In the context of CRM and cloud software, middleware can help companies automate various tasks and processes, improving the efficiency and effectiveness of their support operations. Typically, a middleware provides applications in the Zendesk marketplace or a plugin using webhooks to request action from third-party software that handles the automation.
This blog post will discuss how you can use Zendesk triggers and automation to simplify your customer service operations, reduce manual work for your agents, and enhance the overall customer experience. Here are 7 Benefits of using middleware to automate your Zendesk instance:
Automated Ticket Assignment​
One of the main benefits of using middleware automation for Zendesk is the ability to extend the routing functionality. The necessary information for assigning tickets is often hidden in the context of a message. In this case, you can route tickets to a particular group of agents if they contain specific information, like order ID or booking code. Sometimes the details are even available in another system. In this case, a middleware solution can import this information from third-party systems and assign tickets automatically based on predefined criteria. For example, you can route tickets to agents if the customer's revenue is higher than a certain amount, like a VIP group.
Backend Data Sync​
A middleware solution can easily integrate with other systems, such as CRM, ERP, and marketing automation systems, enabling companies to transfer data between different systems seamlessly. It is possible to improve data flow through middleware, like importing relevant user information such as order history into Zendesk or exporting customer data to a CRM, reducing manual intervention and the potential for errors. This results in a more efficient and accurate flow of information. Apps like the API Data Sync in Zendesk Marketplace enable companies to send and retrieve data to and from backend systems via API.
Auto Categorize and Auto Tagging Tickets​
Ticket categorization is another helpful element that can be automated in Zendesk through middleware to simplify the support process. You can quickly categorize and automatically tag tickets using an individual Machine Learning model. This makes it easier for agents to filter and find support tickets based on specific criteria. You can also use ticket categorization to route requests to agents or departments based on their expertise. For example, a ticket tagged as a billing issue can be automatically assigned to the billing department for resolution.
Fill in Ticket Fields Automatically​
A middleware technology can scan the ticket content and extract relevant information based on any criteria, automatically enriching the most critical fields in a Zendesk ticket. It allows you to set certain tags once the particular information is found, which can be used together with further automation, such as automatically assigning tickets. The Ticket Parser App for Zendesk extracts strings based in any pattern and keeps the information organized and in one place.
Read and Convert the Content of Scanned Documents​
Often, agents need to download an attachment in a ticket and read its content. Some middleware solutions can instantly read and convert the content of PDF and scanned documents and display its content directly in the ticket. Furthermore, combine it with other functions to automatically fill ticket fields based on document content.
Automated Chatbots​
Zendesk's chatbot integration also allows you to create custom plugins that can be used to automate multi-step processes. For example, you can use a chatbot to gather information from a customer, route the ticket to the appropriate agent, and send a follow-up email to the customer. The Ultimate Chat Automation is an AI-Powered chat automation that can be integrated into Zendesk and benefit from Middleware software to enable growth to your support team.
Customization​
Middleware can be customized to meet your company's specific needs, enabling you to automate your support processes in a way that works best for you.
Ready to automate Zendesk via Middleware?​
In conclusion, middleware is a crucial technology for automating your Zendesk instance. It can bring valuable benefits, including increased productivity, improved customer experience, scalability, and integration with other systems. As a result, it's an essential technology to reduce ticket backlog and increase agents' satisfaction, removing tedious tasks that can be easily automated.
If your company is looking for a way to automate your customer support and reduce costs, we offer various modules that are ready to use and can be configured in a few minutes.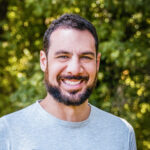 Gabriel Rubia
PRODUCT MARKETING AND CLIENT STRATEGY MANAGER