Is your Zendesk Ready for
Black Friday?
Automate your workflow and maximize your Zendesk efficiency this Black Friday
Get ready for Black Friday with smart automation that works around the clock
Forget the hassle and expense of hiring temporary agents. Knots.io's automation tools help you efficiently manage the surge in tickets during and after the sales period.
It's important to prepare for the surge in customer inquiries during Black Friday. Process more tickets, save on training costs, and maintain high-quality support when your customers need it most.
With our solution, you're set for the busiest shopping season and well-equipped for the follow-up, all without increasing headcount.
Optimize Your Zendesk with Knots to Crush The Holiday Rush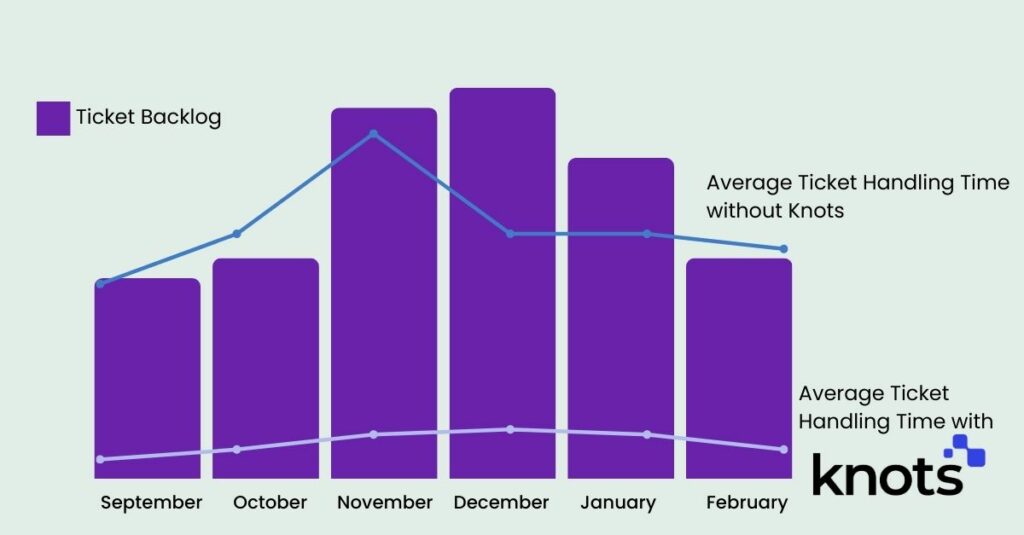 Black Friday and Cyber Monday will soon be here, bringing the hustle and bustle that can cause processes to fall through the cracks — every minute counts. Here are some small tips to reduce ticket backlog:
Send automatic replies to your customers informing them about the possible delay in your reply during this period so they won't send you additional requests.
Give your customer service team the reins to handle requests rather than endlessly forwarding tickets.
Streamline your processes during and after the high season using Knots' middleware modules to automate data processing. Too many tickets, too little time? Here's how Knots can help:
Allow the machine learning module to scan the ticket, recognize its context (such as tracking, billing, or complaints), and automatically tag and assign it to the team most qualified to respond. Create automated workflows based on ticket classification.
Automatically extract information, like order IDs, serial numbers, travel dates, or customer contact information, from the tickets and store it in the ticket fields. Save time with the copy & paste. Learn more
If you use Shopify or any other tool, your agents will save time without the need to switch between systems. Let your support staff easily access and work with CRM data, such as client information, order/purchase ID, invoice number, etc., right within Zendesk tickets.
Reduce ticket backlog by automating duplicated tickets from the same requester or about the same subject or order. You can also change the ticket requester automatically in case of a chatbot or emails sent by a third-party system, allowing agents to check duplicated inquiries quickly.
Automatically transcribe, index, and add material from PDFs, pictures, faxes, and other scanned documents to Zendesk tickets without requiring an agent's help. Your customer care staff won't have to manually download, open, and typewrite from Zendesk tickets ever again!
Combine multiple Knots modules to create automatically generated responses to improve customer support. Let the system process and respond to requests like "Send me an invoice" and "Where's my order?" Give your customer service representatives more time to work on significant tasks and provide genuine customer care.

Ready to start automating Zendesk?
When the holidays hit, every minute counts. With Knots, you don't have to waste valuable time on repetitive tasks.
You'll have the tools to work smarter instead of harder.
Talk to one of our specialists, and we will provide you with a free consultation about possible gains, your expected ROI, and a free setup. We also offer 3 months without the monthly fee if you join us this November.