Shopify Event Sync for
Zendesk
Import data from Shopify and interact with it in Zendesk or update your Shopify directly from the Zendesk ticket. Automate your customer service workflow based on specific events and save time jumping between the systems.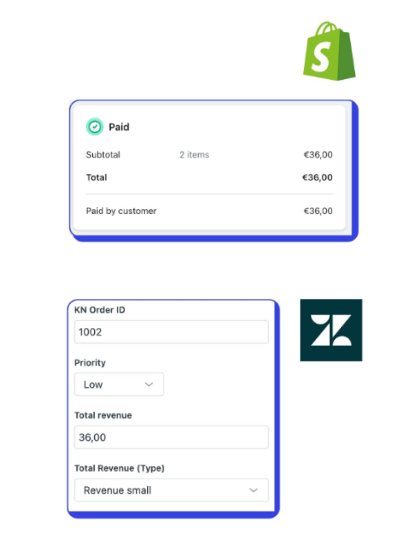 Access Shopify Data without Leaving Zendesk
Streamlined Support Workflow

: Simplify your support process by directly accessing crucial Shopify data in the Zendesk ticket.



All data in one place:

With Shopify Event Sync, support agents can retrieve relevant customer, order, and product information from Shopify and efficiently handle customer inquiries.



Real-Time Data Interaction

: Enjoy real-time synchronization of Shopify data within Zendesk tickets. Respond to customer inquiries with up-to-date information on order status, inventory availability, and customer details, ensuring accurate and timely support.



Enhanced Customer Experience:

Provide personalized and efficient support by accessing comprehensive Shopify data directly in Zendesk. Seamlessly handle customer inquiries, resolve issues faster, and deliver exceptional support experiences.


Effortless Integration: Integrating Shopify Event Sync into Zendesk is seamless. With easy setup and configuration, your support team can start leveraging Shopify data within Zendesk in no time. Say goodbye to complex integrations and hello a streamlined support workflow.
How to Sync Data Between
Zendesk and Shopify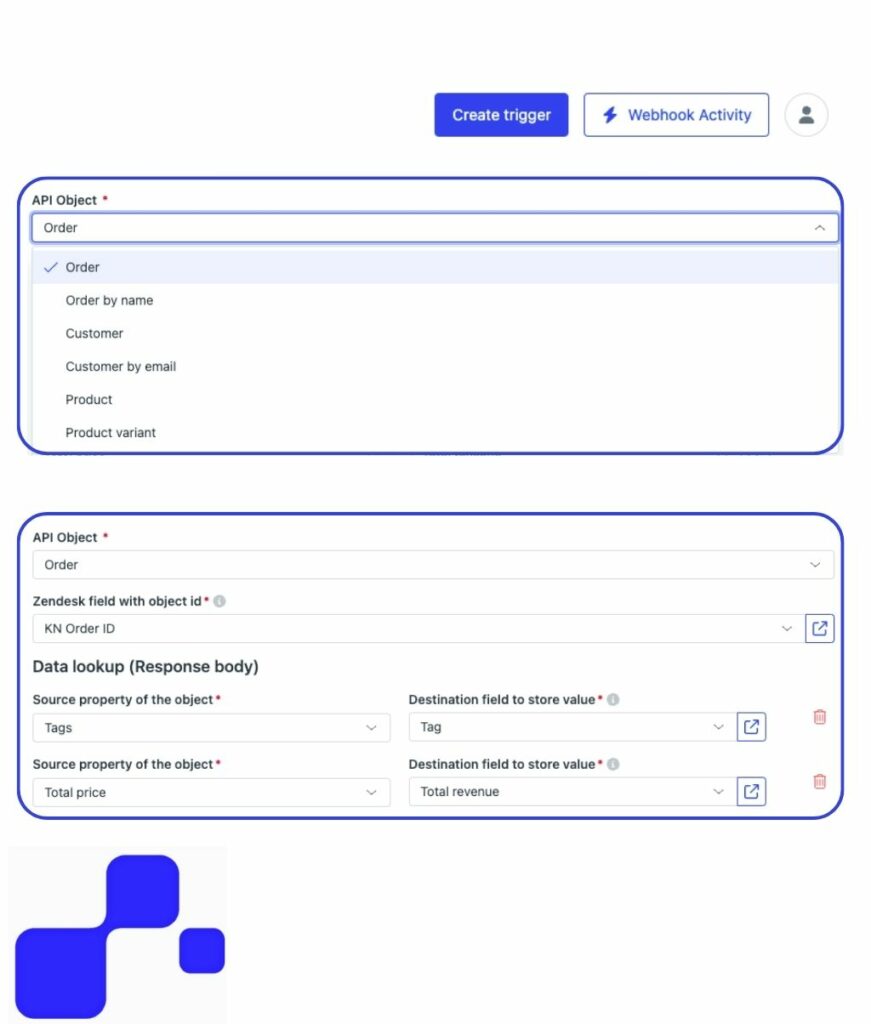 The Shopify Event Sync for Zendesk is very simple to use and is one of the most used automation tools for customer service.
You can easily create a trigger in the app and select which API objects you want to use. It's essential to match the properties on your Shopify account. If you have questions about how to configure which information is going to be available, check this article here.
You need to select the field in the ticket containing the object recording in Shopify and the fields you want to store the results.
Once the trigger is created, you can select the conditions or the events that will fire the trigger.
Empower your customer support team with real-time access to Shopify data and provide exceptional customer support experiences.
Elevate your support workflow by integrating Shopify data seamlessly into Zendesk.
Visit the Zendesk Marketplace and get started with the Shopify Event Sync app for Zendesk
Maximize the benefits this tool can bring
to your operations
Not entirely sure if this solution is the perfect fit for you or your team? Are you concerned about how to integrate this tool into your existing workflow? You're not alone. Making a decision about a new product can be daunting, but we're here to make that process easier.
We believe in the power of our product, but we also believe that every organization is unique. Your needs, goals, and challenges are all different, and our team is committed to understanding them so we can help you make the best decision.
Our team of experts is ready and willing to guide you through a no-obligation, free consultation. During this call, we will use our knowledge and experience to help address any questions or concerns you may have. 
Don't let uncertainty hold you back. Let us walk you through our tool's features, functionalities, and possibilities. Together, we can tailor a solution that truly fits your team and propels your success. Our team of experts is here to ensure you can use our product confidently and reap its full benefits.
Looking for something else?
Do you want to optimize your Customer Experience and empower your Customer Support but are not sure what you need?
Contact our team and book a quick call. We want to hear your use case and provide you with the best solution.