Ticket Export & Archive
for Zendesk
Effortlessly Archive and Export Zendesk Tickets, Including Attachments, Fields, and Comments. Save storage in Zendesk today!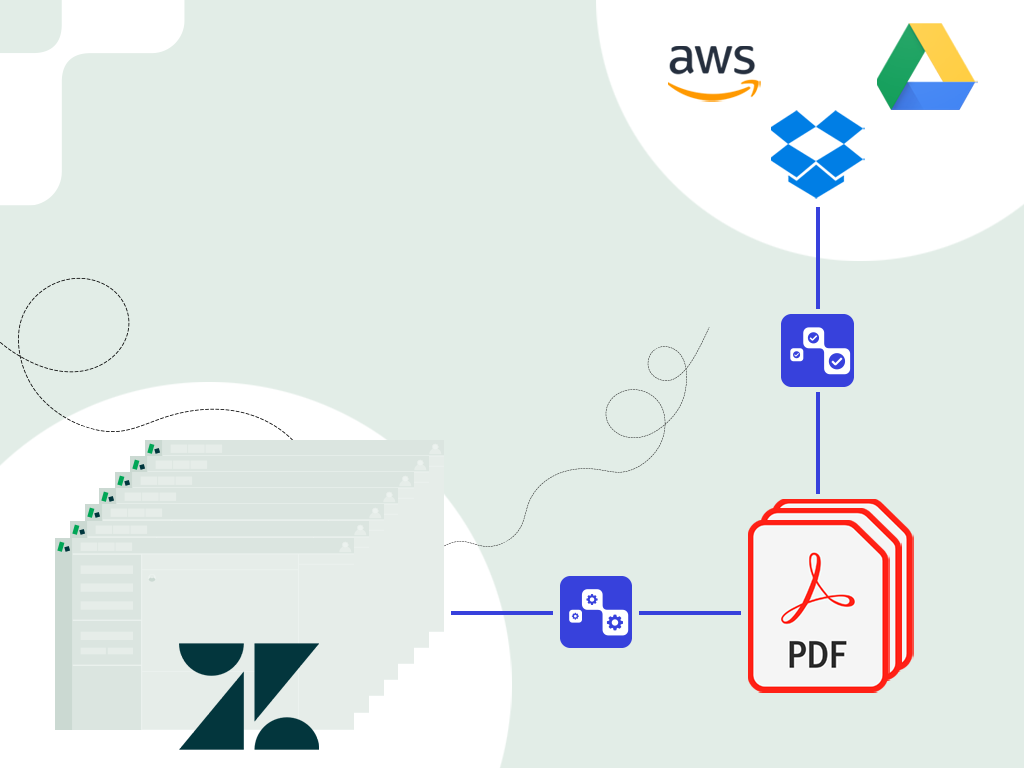 Are you seeking an efficient solution to manage your Zendesk ticket data? Knots.io has you covered. Our Zendesk Ticket Export & Archive feature empowers you to seamlessly export, extract and archive entire tickets, complete with attachments, ticket fields, and internal comments. Take control of your data and ensure easy accessibility for future reference. Knots.io's ticket export is designed to simplify your workflow:
How Ticket Exporter Works
for Zendesk
Event-Based
Automation begins when a ticket is closed in Zendesk, triggered by specific tags set by admins or agents, such as "to_be_archived." Customize it to meet your unique needs. You can also use it for archived tickets as a one-time extraction for historical records.
Quick Process
The exporting process is swift. It transforms the entire ticket into a PDF, preserving all Zendesk data, including internal comments, ticket fields, links, and attachments. What sets us apart? We maintain HTML formatting, a unique feature compared to other options.
Storage Options
Choose to store your archived tickets in an FTP/SFTP server or cloud storage and file synchronization software. Knots.io creates a dedicated folder for each ticket ID, saving the PDF alongside all attachments and a link for easy access.
Save Storage
Bulk delete tickets from Zendesk after the archiving process is done to save storage data.
This functionality is optional and can help you save costs.
Record keeping can quickly become a complex and time-consuming task that poses significant challenges in terms of compliance. However, with our innovative ticket extraction and archiving solution, you can effortlessly manage and organize your records in a way that is tailored to the specific needs of your business and industry.
By leveraging the power of Knots, you can streamline your record-keeping processes, ensuring that you are always in compliance with industry regulations and standards. Whether you need to store, retrieve, or analyze your records, Knots provides a comprehensive and customizable solution that simplifies the entire process, allowing you to focus on what matters most – running your business efficiently and effectively.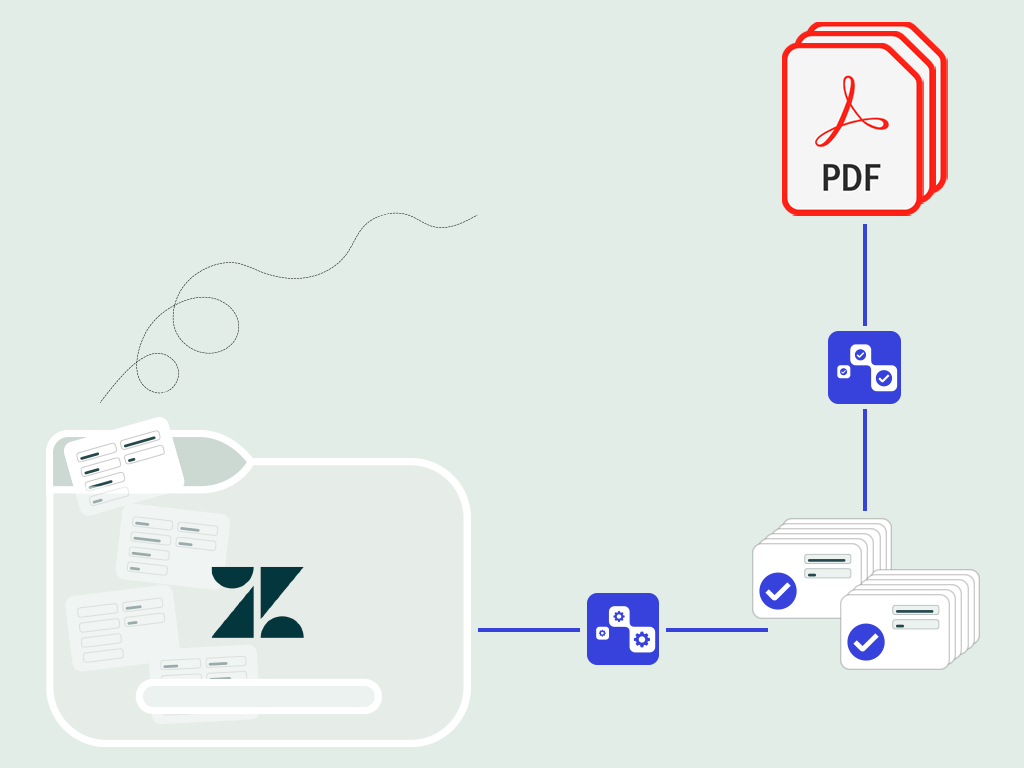 Archiving and Record Keeping: Maintain a comprehensive and organized record of all customer interactions for industry-specific compliance, auditing, and legal reference.
Data Retention: Establish a secure, long-term data retention strategy, ensuring historical support data is readily accessible.
Data Security: Robust security measures protect sensitive customer data, with control over access and encryption.
Reduced Dependency on Zendesk: Avoid data loss during system outages or disruptions.
Backup and Disaster Recovery: Ensure redundancy for quick recovery in case of data loss or disasters.
Improved Agent Productivity and CX
When Zendesk becomes overloaded with tickets and data, customer support teams may struggle to efficiently address individual customer needs. By implementing a robust ticket extraction and archiving system in Zendesk, agents can easily access archived tickets to provide personalized support. Customers also benefit from transparency and an understanding of their support history.
Knots' ticket extraction and archiving solution preserves customer records, ensuring data integrity and accessibility. Well-extracted and archived data can also provide valuable insights for continuous improvement, enhancing business operations, agent productivity, and the overall customer experience.
Customer Transparency: Provide customers with PDF access to their support history, building trust.
Enhanced Customer Service: Better understand customer history and needs, delivering personalized support.
Accessibility: Access your support data from anywhere with an internet connection, ideal for remote teams.
Easy Sharing and Collaboration: Share and collaborate on support ticket information with ease, thanks to universally accepted PDFs.
Custom Reporting and Analysis: Gain deeper insights from your support data using custom reporting and analysis tools.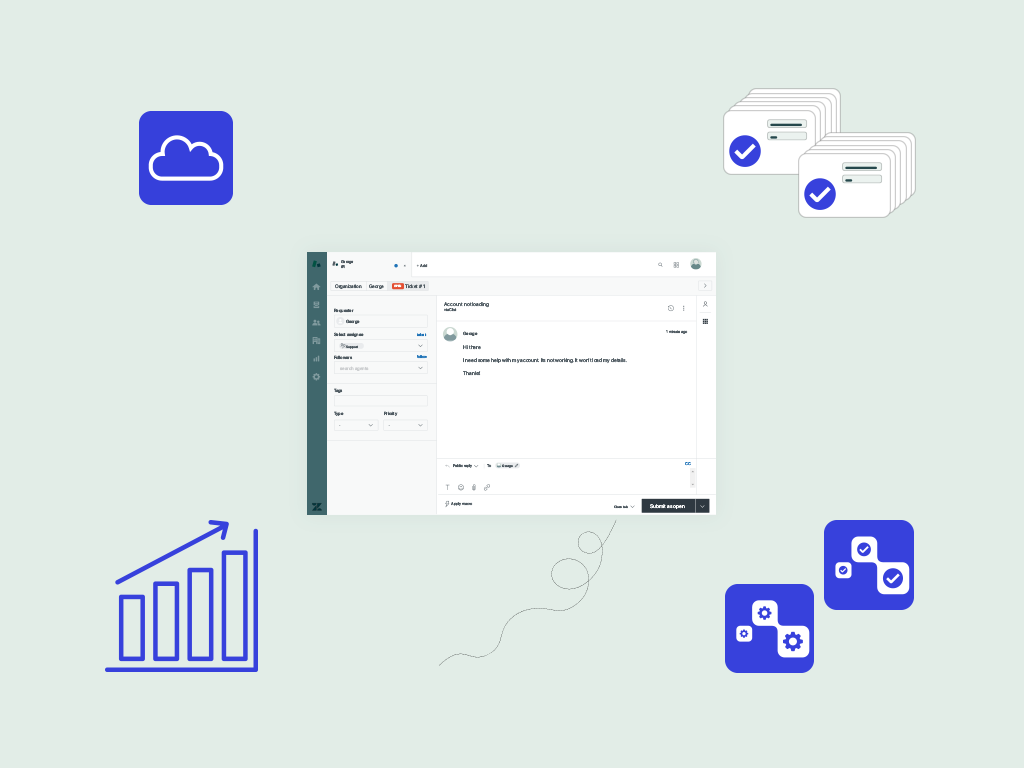 Start Using Zendesk Ticket Export and Archive Today
If this powerful capability aligns with your needs, contact our team for a free consultation call. Our experienced consultants will guide you through the setup process, ensuring a seamless transition to Knots.io's Zendesk Ticket Export & Archive. Get started today and experience improved data management and accessibility.
Have questions or need guidance? Contact our team to schedule an appointment. We're here to help.